From Chuck Colson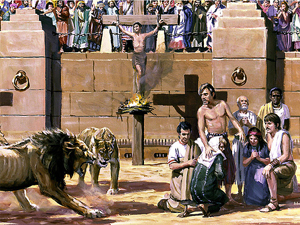 If I were to tell you about a city where it's illegal to hold a Bible study in your home without official permission, you'd think I was talking about a city in China or Saudi Arabia.
Well, you would be wrong. I'm talking about California. You might think, "That can't be constitutional." But you would be wrong again.
Every Wednesday and Sunday, between 20 and 50 people gather at the home of Stephanie and Chuck Fromm for Bible studies. While that sounds like a lot of people, the Fromms have a lot of home: the property includes a "corral, barn, pool and huge back lawn," typical of their "semi-rural" neighborhood.
Unfortunately for the Fromms, their home came with a neighbor who, by her own admission, "has never gotten along with the Fromms." So she filed a complaint against the Fromms.
That's when the Fromms learned that their Bible studies violated local ordinances. Not because they were too noisy: There's no singing or music at the gatherings. Not because of any parking problems: Chuck Fromm makes sure that his guests are not obstructing his neighbors in any way.
No, they violate the law because local ordinances require a "conditional use permit" for meetings of "religious, fraternal or non-profit" organizations in residential neighborhoods. The ordinance doesn't specify how many people need to gather to run afoul of the law: Three Freemasons could meet over coffee in one of their homes to discuss Lodge business and be in violation of the law.