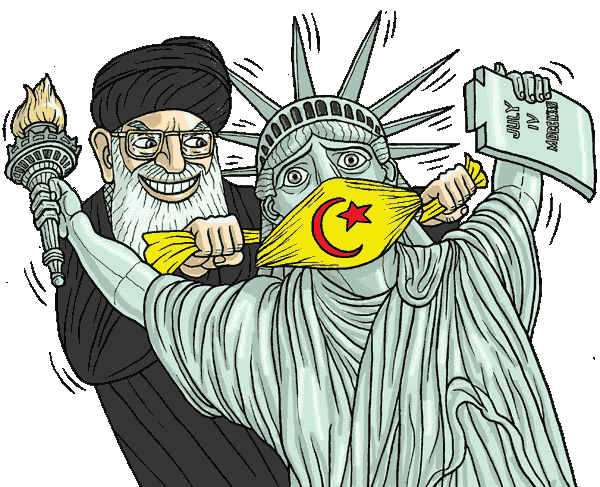 Progressives, Islamists huddle at Justice Department: Top Justice Department officials convened a meeting Wednesday where invited Islamist advocates lobbied them for cutbacks in anti-terror funding, changes in agents' training manuals, additional curbs on investigators and a legal declaration that U.S. citizens' criticism of Islam constitutes racial discrimination. The department's "civil rights lawyers are top of the line — I say this with utter honesty — I know they can come up with a way" to redefine criticism as discrimination, said Sahar Aziz, a female, Egyptian-American lawyer. [Consorting with the enemy? Worse? – JS]
---
Gallup: Obama's latest approval ratings 'the worst of his administration':
The president's approval rating, which had leveled off near 47 percent over the previous three quarters, fell to 41 percent – a 5.8 percent drop from the second quarter and the administration's worst rating to date. Obama's previous low was 44.7 percent. Gallup noted that
only Jimmy Carter had a worse 11th quarter in office
.
---
THE AFL-CIO's REVOLUTIONARY ACTIVISTS:
The AFL-CIO is making headlines by
running ads
promoting "Occupy Wall Street." One seriously doubts that members of the working class have much in common with the left-wing professional agitators running these protests and the tent cities they are erecting illegally in private and public parks in New York, Washington, D.C. and other cities. The most interesting part of this story, however, is that one of the AFL-CIO affiliates behind the campaign, the Working America group, is headed by a veteran of the Venceremos Brigades to Cuba, a progressive activist by the name of Karen Nussbaum. Equally significant, her husband works for the public relations firm that represented billionaire hedge fund operator George Soros.
---
INCREDIBLE!
Electric Car Company Received Obama Admin Approved Loan to Build Cars in Finland
: With the approval of the Obama administration, an electric car company that received a $529 million federal government loan guarantee is assembling its first line of cars in Finland, saying it could not find a facility in the United States capable of doing the work.
---
US 'Misery Index' Rises to Highest Since 1983:
An unofficial gauge of human misery in the United States rose last month to a 28-year high as Americans struggled with rising inflation and high unemployment. The misery index — which is simply
the sum of the country's inflation and unemployment rates
— rose to 13.0, pushed up by higher price data the government reported on Wednesday.